interview:
Mrs. Triveni Balkrishna Acharya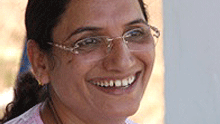 Mrs. Triveni Balkrishna Acharya, as the leader of the Rescue Foundation, is committed to protecting and promoting the human rights of women, girls, and children by working to eradicate human trafficking. She often takes a lead in conducting raids on brothels in India.
What is the mission statement of your organization?
Rescue, Rehabilitation, Reintegration, & Repatriation of unfortunate victims of human trafficking sold for forced prostitution. The concentration of the organization is victims trafficked from Nepal, Bangladesh, and India.
When was it created, by whom, and why?
It was created by Mr. Balkrishna Acharya. From childhood his nature was revolutionary and he always attempted to struggle against unjust and anti-social situation. That is the reason that he left his studies and jumped into Indian Army which would serve his country even at a danger to his life. Then, later, he came across the humble faces of unfortunate girls who were going through hell in the red light district of Kamatipura in Mumbai and risked his life to rescue them.
In 1995, a Nepali small girl was crying pathetically in a dark room, wanting to be rescued from the inhuman trade of forced prostitution. That night he could not sleep. On the next day, also he lost his sleep. A person who was stronger than stone, appeared even more delicate than cotton. He was totally shaken. On one side he was surrounded by family, business, and society while on the other side a deep-rooted desire for changing the fate of these unfortunate girls to kindle hope of integrating with respectable society. He courageously decided to walk on a novena path. From that day onwards, a distinct change came over him. It looked as if he started a part-time honorary job in the red light area of Mumbai.
In the evening, when he used to down the shutter of the shop early and move to the red light area of Kamatipura early in the night, it was a matter of frightful surprise to all. He was counseling one girl who wanted to be rescued. God wished him to rescue five girls. And at the time of rescue, 13 girls came forward. It was like a God-sent Father had come to rescue them and give them a new life. That particular day also his eyes were wet but they were wet by tears of joy.
Slowly, he distanced himself from the family and started getting involved in the perils of red light areas. The possessiveness of the family and their concern about his safety were many a times instrumental in their attempt to persuade him not to get involved in such dangerous activities. But he was engrossed in his will to serve mankind by rescuing these unfortunate humans. He transformed himself into a savior of the underprivileged.
On one hand, the heart-breaking cries of these thousands of girls and on the other hand, the lack of finance made him pursue his resolution ever so strongly. Luckily he got the support of Ms. Anuradha Koirala, President of Maiti Nepal. Her support provided him with the strength to pursue his objective vigorously. This was the beginning in an organized way. For the first time in India, police were persuaded by an NGO to carry out rescue operations. He then realized that he can achieve better results by organising the rescue operations under an official, government-recognized NGO. Thus he started Maiti Nepal (Mumbai) in 1989. Subsequently the NGO was renamed as Rescue Foundation in 2000.
How long have you been involved with the NGO?
I am involved with the NGO since 1999.
Why did you get involved?
I got involved because my husband Mr. Balkrishna Acharya was deeply involved in rescuing victims of human trafficking forced for prostitution. He was the founder President of Rescue Foundation. I was a journalist in a renowned newspaper in India. Being his wife I naturally assisted him in his work. Unfortunately he passed away in a car accident in 2005. I then took over as President of Rescue Foundation. Since then I have been personally and deeply involved in helping these unfortunate girls and children.
Have you always worked in the NGO field?
Yes, even when I was a journalist.
Why is NGO work important?
It gives tremendous mental satisfaction.
Did you have an inspirational figure in your life growing up?
My inspirational figure in life is Mother Teresa.
Are there other selfless leaders out there you admire? If so, who and why?
I also admire my husband who was a selfless person and used to go to any limits for rescuing, rehabilitating, and repatriating these unfortunate girls.
Why is it important to be a selfless person?
To devote the precious human life for other needy fellow human beings.
If there is one place or issue out there in the world you could personally explore, what would it be?
There is one issue which changed my life. Once I as a journalist went to interview the renowned actor and member of Parliament Mr Sunil Dutt, with him in an brothel. At that time I saw a girl who about 8 or 10 years old, crying desperately. Her parents were in Nepal and the girl was sold to a brothel in Mumbai for forced prostitution. Looking at the helplessness of the girl changed my mind.
What is your dream for the NGO?
To save the lives of a maximum number of girls and to abolish human trafficking for forced prostitution.
What is your operating budget? What would you do with more funds?
Our operating budget is Rupees 15,000,000 and our budget for development projects is about Rupees 40,000,000. We at present have three protective homes with total capacity of 250 girls. With continuous repatriation we rescue about 300 to 400 girls annually. If we had more funds we would be able to rescue more girls and establish more protective homes in India. We would also create awareness in villages and interiors from where the human trafficking happens.
Outside of funding, what are some of the biggest challenges it faces? Or, specifically, what is the most frustrating part?
Investigation and rescue are the biggest challenges. The work involved is very risky. The frustration occurs when the rescue raid fails due to leakage of information to the brothels. The considerable efforts made in investigation and verification all go to waste.
How was the grant given by explore through the Annenberg Foundation used?
The grant was used for saving the lives of many girls and children. It was very useful indeed.
Do you think it had an impact? How?
It definitely had an impact. Without the grant we would not have been able to rescue, rehabilitate & repatriate 300 girls in 2008.
What was your biggest surprise when explore came to visit you?
We did not know that we were that famous. We are today the only NGO in India rescuing so many girls annually. The visit was a pleasant surprise to us.
How can people get involved?
We also have volunteers and donors who care for the work we are doing.
What would you consider the Rescue Foundation's greatest accomplishment?
We have saved girls from physical and mental torture in the brothel before they were actually sold to the brothel. We intervened at the time the deal between trafficker and brothel keepers was being made. This avoided lot of trouble to the girls.
What are three things that you wish people knew?
That our NGO is totally honest and transparent.
That we are successful in rescuing so many girls.
That after rescue we also rehabilitate and repatriate the girls.
That we provide safe custody, rich nutrition, complete health care including HIV treatment, vocational training for sustenance, repatriation, and weddings.
Do you think media accurately portrays the issues your organization represents?
No. They are only interested in spicy news.
What do you believe to be the biggest challenge facing our planet today?
Terrorism and child trafficking.
If you could change one thing in the world, what would it be?
Stop child abuse.
What do you think will be our planet's biggest challenge 10 years from now? 25 years from now? 50 years from now?
Population Explosion
Infrastructure
Poverty
What is the key to living a happy life?
Satisfaction.