interview:
Madeline Bernstein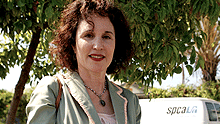 President, spcaLA / California
Madeline Bernstein is a highly accomplished attorney who joined the spcaLA in 1994 and now serves as its President. She is one of America's preeminent leaders and advocates promoting animal welfare.
What is the mission statement of your organization?
spcaLA is dedicated to the prevention of cruelty to animals through Education, Law Enforcement and Intervention.
When was it created, by whom, and why?
spcaLA was created in 1877 by five prominent Angelinos: James J. Agers, P.W. Donner, D.B. Hottman, Walter Lindley and B.H. Upham. spcaLA was originally created to protect animals (focusing mainly on beasts of burden) and children from cruelty and mistreatment.
What is your operating budget? What would you do with more funds?
spcaLA's operating budget is $5,708,469. The majority of funds given to spcaLA are used to operate our programs — shelter services, law enforcement, humane education and more.
How can people get involved?
Donate and become a member of spcaLA or volunteer.
How was the grant given by explore through the Annenberg Foundation used?
By allowing spcaLA to use you gift for general operating support, spcaLA was able to use it where it was most needed — to further the programs and services highlighted earlier.
Do you think it had an impact? How?
Definitely — your gift helped us to provide food, veterinary care, shelter, training and more to 3,000 animals.
How many animals per day get brought in to the shelter?
This number varies from day-to-day and from season-to-season. In summer months, when the effects of pets not being spayed or neutered are most apparent, we see an influx of homeless kittens, as well as injured/homeless adult cats and dogs, who have become lost while searching for a mate.
How many per day are adopted? Per year?
spcaLA averages about 3,000 adoptions per year.
Why are there so many amazing animals in shelters? How do they end up here? Do you get more dogs or cats?
Animals arrive at spcaLA for a variety of reasons, ranging from financial issues (which have been more common this year) to instances of abuse or neglect. Often times, owners are not fully prepared for the financial, emotional and time commitment of owning a pet. Animals that are not regularly seen by a veterinarian, spayed/neutered and given some behavioral training are much more likely to be relinquished to a shelter when common behavioral issues/ailments balloon into something more serious. We get more cats.
Is it harder to adopt a big dog or little dog? Young or old?
While these issues vary from pet to pet, it can take longer to find new homes for adult dogs – many people operate under the assumption that they "need" a puppy, though adult dogs will often bond more closely with adoptive families, as, on some level, they understand they have been given a second chance. Small dogs are often turned into shelters for common, correctable behavioral issues. Overindulged and never given set boundaries, small dogs may be more attractive to potential adopters, but can bring with them the need for formal behavioral training.
Is there a particular time of year when you get more dogs or cats than others? Why is that?
Certainly during the early summer we receive a high number of cats as a result of "kitten season." Spring mating season produces many unwanted littered from unaltered cats. Spaying and neutering is the best way to control pet overpopulation.
In 2005, when we visited you, the spcaLA had a 91% adoption rate. Has that changed?
Yes, it has increased to 93%.
How has the internet been effective in pet adoption?
Very effective. We are able to advertise our adoptable pets online through our website and others. Social networking makes it possible to post photos and information about adoptable pets, post links to pets online or on TV, and advertise mobile adoptions.
How do you feel when you watch an animal getting adopted?
It is a very rewarding feeling, especially when it is an animal that has been in the shelter for a long period of time.
Is there an adoption story that has truly touched you?
We had a stray named Brindl Pit Bull mix named Susie come to us. She had been overbreed so her under carriage drooped very low. It was not the prettiest sight, but she was such a good dog she quickly became a staff favorite. Susie participated multiple times in our Teaching Love and Compassion program where at risk youth work with shelter dogs. Susie learned all kinds of commands and her manners were impeccable. She was smart and a fast learner and loved the kids and loved attention. No one would look at her though because of her appearance. It was very frustrating. We took her on the news for Adopt a Pet, put her in multiple publications, but still nothing. Months went by and finally a woman called after seeing her picture in the Daily Breeze (Torrance paper). She wanted to know why the dog hadn't been adopted because Susie's picture had appeared multiple times. The staff explained how special she was, but her appearance deterred adopters. The woman came to visit Susie and fell in love with her. Susie's small imperfection was over-shadowed by her sweet personality and all the hard work the staff had put into Susie paid off. Now Susie lives a very pampered life in a beautiful house in Rancho Palos Verdes!
Are you a "no-kill" shelter? What happens if a pet is not adopted?
"No kill" is a myth propagated by the media and well-meaning but ineffective rescue groups. spcaLA will keep an animal as long as it is healthy and adoptable. As long as an animal is healthy and adoptable it has no time limit on how long it can stay in our shelter. We have had cats and dogs in our shelter for 2 years that have been adopted.
Which programs are you most proud of? Any new developments in these?
Many of our programs are remarkable and often imitated. Two that should be brought to light are our Animal Safety Network (ASN) and Teaching Love and Compassion (TLC).
Through ASN, spcaLA will foster the pets of victims of domestic violence so that they may enter a shelter. When the person is able to, they take their pet back. The program was created because often times, victims of domestic abuse will not leave a violent situation knowing that they are leaving a pet behind. Shelters for people will not take pets. ASN makes it possible for someone to rehabilitate without worrying about abandoning their pet.
TLC is a program that teaches life coping skills to at risk youth with the help of shelter dogs. A pair of teens is partnered with a shelter dog and they teach basic commands like sit and stay to the dog. Some are able to teach more tricks and agility. It gives the teens a sense of accomplishment while learning how to get along with others as well as make our shelter dogs more adoptable with socialization and learning basic commands. At the end of the TLC session, the teens have a graduation where they can invite friends and family to see what they have learned. Potential adopters also come and the teens are able to tell the adopters about the dogs.
Tell us more about the Disaster Animal Relief Team. What do they do? Can you give us a real example of their work?
Disaster Animal Relief Team or DART is headed by the humane officers of the spcaLA Law Enforcement Division. When natural disasters strike and animals and their families need assistance, DART is employed to work with other law enforcement and relief agencies. DART has a mobile command center and several vehicles including a horse trailer. Last year, DART was deployed to respond to Hurricane Ike in Galveston and the wild fires in California. They were also some of the first responders to Hurricane Katrina.
What about the foster program?
Fostering is one of the most rewarding activities to participate in. Our ASN program is a form of fostering but we also have a larger fostering program. Fosters take in animals with special needs or those that are too young and care for them until they are able to be adopted. This could be a kitten that needs to be bottle fed or a dog that needs socialization. Fostering gives an animal a better chance of adoption.
Were you always an animal lover?
Yes, and animals always found me!
What is your favorite type of animal?
I can't decide or say without insulting my pets.
Do you have any pets of your own? If so, what are their names?
See my bio.
What do you think of the phrase "dog bless you"?
I'm not a catch phrase lover. It reminds me of a Woody Allen movie where he pointed out that god spelled backwards is dog.
Tell me the impact that you think animals have on people.
They inspire empathy, love and generosity of spirit. They are great company, good for your health and remind people that we share the planet with others and should therefore be responsible.
What made you cross over from the field of law into working at your current position?
See bio.
Can you expand upon the concept that almost all people who commit violent crimes have a history with domestic animal abuse?
Youth who show violence toward animals are more likely to commit acts of violence toward people as adults. 89% of serial murderers have a history of animal cruelty, as do 48% of convicted rapists, 46% of incarcerated sexual homicide perpetrators and 36% of assaulters of women (Latham). Given the staggering connection between animal cruelty and violent crime, it is evident we must intervene before Los Angeles' youth become violent toward living things.
How then, can we cure violence? The answer is simple, yet hard to administer: we must insert empathy. Empathy is the root of a person's ability to show kindness for living things. Children that harm small animals and then upgrade to larger victims have desensitized themselves of having any compassion or empathy for living things. If we can restore the empathy, we can restore the ability to feel for the suffering of others and in turn cure violence.
spcaLA continues to insert empathy through Humane Education programs like "Teaching Love and Compassion" (TLC), our innovative youth violence-prevention program; classroom presentations; Friends For Life Summer Camp; and Animal Safety Network (ASN) in which we provide shelter for the pets of domestic violence victims so they may flee abusive situations.
In Los Angeles, we hear so much about pit bulls mauling innocent people. Who should be held responsible here? What happens to these dogs? Can they be rehabilitated?
The treatment they receive from people and the way they are bred (for violence and antisocial traits) have given them a bad reputation. All dogs bite and all breeds can be ruined by unscrupulous breeders. Some can be rehabilitated.
How did you feel when you learned about the Michael Vick situation in Atlanta? Is dog fighting a common problem in Los Angeles? Is it elsewhere?
I was outraged as it is an awful crime and he should take more care to be a role model. Backyard, neighborhood fights are common in Los Angeles — organized fights like the one Vick was involved in are much more underground and hard to find.