interview:
Juliano Mer Khamis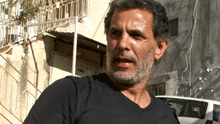 Juliano Mer Khamis was an actor, director and filmmaker — but his greatest work lies in the creation of a theatre in the Jenin Refugee Camp that provided a creative outlet for local youth in an emotionally charged environment. On 4 April 2011, he was assassinated by a masked gunman in the Palestinian city of Jenin, where he established the Freedom Theatre.
What is The Freedom Theatre?
The Freedom Theatre aims to demonstrate a model of artistic excellence in theatre in the Occupied Palestinian Territories and, using the creative process as a model for social change, provide opportunities for the children and youth of Jenin Refugee Camp to develop the skills, self-knowledge and confidence which would empower them to challenge present realities and to take control of their future.
When was it created and by whom?
The Freedom Theatre was created in 2006 by myself, Zakaria Zubeidi, the former military leader of the Al Aqsa Martyrs' Brigade, Jonatan Stanczak, Swedish-Israeli activist, Dror Feiler, Swedish-Israeli artist, with the help of many other people in Palestine and throughout the world.
What inspired the founding of The Freedom Theatre?
Jenin Refugee Camp was during 2002 and onwards brutalized by the Israeli army in much the same way as Gaza was recently. Many hundreds of people died and thousands have been killed or arrested since. This area is still under tight Israeli military control which means that all aspects of daily life are affected, just like in the rest of the Palestinian territories. Each and every one of our students bears marks of bullet wounds, severe beatings, torture or psychological traumas. This is the language of the occupying power.
In an effort to change this situation, we decided to open The Freedom Theatre. We came from around the world, people with different backgrounds, faiths and political views, to join the children of Jenin in their struggle against occupation and oppression, for their right to childhood and freedom.
Have you always worked in the NGO field?
No, I have worked as an actor, director and filmmaker.
Why is NGO work important?
I believe that community work rather than specifically NGO work is important, in particular in the context of occupation and oppression. One of the aims of the Israeli occupation is to conquer and divide, and I am sorry to say that they are succeeding. The Palestinian people need to unite and one step towards achieving that is to come together in communal work, irrespective of social status and political or religious beliefs.
Did you have an inspirational figure in your life growing up?
I had three:
Milay, a nine year old child who survived the massacre committed by the American army in the village Mailai in Vietnam in 1968. Milay symbolized the victory over oppression and occupation. I named my daughter Milay.
Che Guevara was my rock star figure when I was ten years old.
My mother, who was the sun in our house.
What is your background and relationship with the Theatre?
I had worked with the children of Jenin Refugee Camp already during the first Intifada, when my mother, Arna Mer Khamis, opened up a children's theatre in the camp. My mother was an Israeli woman who fought against the occupation all her life and for her work with the children in Jenin she was awarded the alternative Nobel Price in Stockholm in 1991.
However, the theatre was destroyed by the Israeli army in 2002, along with most of the rest of the refugee camp, and my mother died of cancer in 1995. Most of the youth who had been in the theatre's acting group were killed by the Israeli army.
In 2005, I along with friends from Palestine, Israel and Sweden decided to build The Freedom Theatre on the legacy of my mother. This story is also documented in my film "Arna's Children."
What is the importance of the Theatre?
In the context of Jenin, the work of The Freedom Theatre is all the more important since the Israeli occupation aims to destroy the Palestinian culture and sense of identity. Prior to the establishment of The Freedom Theatre, few residents of the Jenin area had even seen theatre, much less participated in performing arts activities. The majority of cultural activity is television, Internet or cell-phone generated, with some input from the odd workshop, performance, or wedding dancing.
What are some of the biggest challenges?
Some of our activities challenge the status quo of the local community, particularly when it comes to the roles available for girls and women. Theatre and arts are marginalized and largely viewed as child's play, not something to be taken seriously, and it is frustrating to have to battle with those conceptions when in fact it is an established fact that access to culture has positive effects on both the mental and physical health of human beings.
Participation in cultural activities strengthens human resources such as creativity, knowledge and a sense of identity and dignity. Cultural activities also entail great potential to stimulate communication and cooperation, build leadership and deconstruct social barriers. Therefore, support for the arts must be considered crucial to the promotion of human rights and to a healthy, equal society.
Through The Freedom Theatre, not only participating children and youth benefit but also the wider society, in that The Freedom Theatre raises both the quantity and quality of performing arts and filmmaking in the region, while also contributing towards rebuilding the shattered foundations of Palestinian culture and identity.
What would you consider your NGO's greatest accomplishment?
In a society such as Jenin Refugee Camp, a cultural centre like The Freedom Theatre is by its nature subjected to suspicion by some members of the local community as well as by the Israelis. The fact that The Freedom Theatre has been able to operate and continuously expand its programme for three years in a society where distrust of the arts is widespread, and which is brutally oppressed by an occupying power, is in itself a testimony of our success.
What is your dream for The Freedom Theatre?
My dream is that it will be the major force, cooperating with other similar forces in the north of Palestine, in generating a cultural resistance, carrying on its shoulders universal values of freedom and justice.
What are three things about your NGO what you wish people knew?
That we cooperate with anybody who joins our struggle for liberation, no matter of religion, nationality or ethnic identity.
That women, men, children are equal in our organization.
That we are not a typical NGO, we believe in and strive for change, which demands total devotion and commitment.
Do you think media accurately portrays the issues your organization represents?
No, far from it. Media is very biased against the Palestinians as it is against the Muslim world in general. We believe that the media is controlled by financial giants with its own political interests, who distort the real picture and use their propaganda towards American-Israeli interests. One of our aims is to penetrate this propaganda and deliver the real picture of what is happening.
How can people get involved?
In America as well as other parts of the world we have Friends of The Freedom Theatre associations, who are very active in supporting us in different ways. If anyone would like to join them, we will be happy to facilitate it. In addition, we welcome volunteers to the theatre, who come to share their expertise in the fields that we are active in. Throughout the years we have had hundreds of volunteers who have contributed immensely to our work. We are also visited regularly by journalists, film makers and photographers who wish to tell the stories of The Freedom Theatre and life in Jenin Camp.
How was the Explore grant used?
Thanks to the generous support of the Annenberg Foundation, The Freedom Theatre was able to uphold and develop its regular activities in theatre, drama therapy and multimedia, as well as to initiate new projects. New or expanded projects include training in filmmaking, photography, journalism and web design, as well as establishing a new, professional Theatre School — the first of its kind in Occupied Palestine.
What was your biggest surprise when explore came to visit you?
The greatest surprise was that here was a group of people with a lot of courage and curiosity, willing to come and share our experiences, despite the dangers and obstacles on the way. This human contact that Explore made with the people of Jenin Camp is very important and should be an example to other foundations, to understand the real issues, problems and needs of the areas they support.
The presence of Charlie Annenberg was an encouraging experience and an act of solidarity with the Palestinian people. Charlie did not believe what he was seeing on CNN, BBC or CBS, and he went with his group of explorers to find out for himself. For this I respect him. I really appreciate people like him.
If there is one place or issue out there in the world you could personally explore, what would it be?
Nature.
Why is it important to be a selfless person?
I think that being selfless is being less. To make a long philosophical story short, to do for yourself is not a wrong thing, as long as it can be done to others. Joining people in their struggle for liberation can only come from a commitment to liberate yourself first. Otherwise you might be trapped in a philanthropical feelings and patronizing tendencies.
If you could change one thing in the world, what would it be?
I would dry all the oil wells.
What is the key to living a happy life?
To have somebody to love you without conditions, despite who you are.
How many people in all are involved in the various programmes?
There are some 700-800 children and youth involved each year and we have a total annual audience at performances and screenings of 14,000-16,000. In addition, we have around 20 staff and trainers, plus some 50 international volunteers who come for a longer or shorter period. Throughout the world we also have Friendship Associations who work with supporting The Freedom Theatre in various ways.
How do you attract interest from kids in the camp?
We cooperate closely with local school, community organizations, families, and individuals in the Camp and in Jenin city. But for most of our activities, there are more kids interested than we have room for, so there are occasions when we make "waiting lists" and children are encouraged to join the next available course.
Is it hard to find qualified staff?
Locally, it is very difficult since there is a great lack of professionals within theatre and arts. That is one reason why we devote so much effort to capacity building for our local staff and trainers. In some fields we have to rely on people from outside, be it other parts of Palestine or abroad.
When did the joint program with the Arab American University start?
It began in September 2008 when the first group of acting students embarked on the three-year educational theatre programme that is run in cooperation with the Arab American University.
Which are the most popular forms/classes?
Classic drama and improv comedy. In addition our multimedia activities, supported by the Annenberg Foundation, are immensely popular and especially among girls, which we are very happy about.
Are there scholarships?
We give monthly grants to all the Theatre School students and the Theatre Technician trainees. In the future we hope to be able to support our film making students the same way.
I see that you're an acting teacher in the programme. What do you find to be the most difficult challenges of teaching performance art? Rewards?
One of the aims of the Israeli occupation is the total destruction of the cultural and artistic life among the Palestinian people. During the last seven years of the Palestinian uprising, Israel succeeded to destroy facilities, libraries, computers etc., preventing the people from carrying out any cultural activity. Cities were disconnected from each other, cultural centres could not communicate; the switch of light and life of the Palestinians was turned off.
Due to these circumstances, our students have no background in theatre, arts or other kinds of cultural expressions. Alongside with teaching acting, history of theatre etc., we also have to create an environment that can inspire the oppressed imagination and personality. This requires a lot of efforts by qualified and dedicated trainers, to plant the seeds of creativity and imagination which normally every child in the world has grown up with.
Another difficulty we are facing is that in an environment of hunger and oppression, theatre and arts in general are considered a threat to the traditional way of life. I would like to quote one of our female students, Batoul Taleb: "I have two struggles as a Palestinian woman; the struggle for equality as a woman in my own society and the struggle as a Palestinian against the Israeli occupation."
Where do graduating students of the program go?
Since the three-year professional Theatre School started in September 2008, the students are still in year one. Our hope is that The Freedom Theatre will keep its most talented students and create a theatre group which will lead the way to social and political changes in Jenin and beyond. I believe others will find their way in different venues around Palestine and possibly the world.
What has changed in Jenin since explore's visit?
After the visit, the film they made and their recommendation to the Board of the Annenberg Foundation, the Foundation decided to give us a very generous grant which greatly contributed to setting the foundation for The Freedom Theatre and turn it into a sustainable venue in Jenin.
The grant enabled us to set up film-making workshops, the first professional acting school in Palestine and to renovate our old hall into a professional auditorium. We also adopted the idea of video diary and created our own site with short films, describing our activities and achievements. All this created a great change among the youth and children in Jenin Refugee Camp, exposing them to the outside world and enabling them to tell their stories to the global community.
The Freedom Theatre's emphasis on freedom of expression and the freedom to create, and the theatre's empowering of marginalized groups in society, like women and children, made it a controversial and influential factor in our local community.
Can you give us an update on Zakaria?
Zakaria Zubeidi got a full amnesty from the Israeli army and was taken off the "terrorist" list. Zakaria left the armed resistance after being inspired by the theatre, deciding that the only way forward was to join the cultural struggle against the Israeli occupation. Zakaria now devotes his life to pave the way for The Freedom Theatre in the hearts of the people in the Camp and protects it from negative elements that see the theatre as a threat to religious and/or traditional values.
Unfortunately Zakaria can not be officially associated with us since in some parts of the world he is still considered a guerrilla fighter, which might jeopardize future grants and support. Zakaria fully understands the complexity of the situation and he is happy to support the theatre from outside. Today he is officially employed in the Ministry for prisoners in Israeli prisons. There are almost 12 000 Palestinians in Israeli prisons, many of whom have been there for years without even being officially charged and tried in a court of justice.
What are some upcoming events at the Freedom Theatre that people should know about?
The students of The Freedom Theatre's three-year professional Theatre School programme are performing the play "The Animal Farm" from March 16th and throughout the month. In the summer there will be another in-house performance, an adaptation of "Arabian Nights." We also regularly host other performing arts companies, Palestinian and international. In addition, there are exhibitions made by our photography students and film screenings of short films made by the participants in our film making training. Check our website for current events! thefreedomtheatre.org
What practicalities are involved if an outsider wanted to come see a performance? Are there still security concerns?
Jenin Camp was under heavy siege for the past seven years. Israel ghettoized the area and restricted movement of people as well as mobility of goods. During the first two years of The Freedom Theatre we had to smuggle in scenography and artists, even audiences were sometimes brought on small buses through the mountains.
Fortunately today things are getting better, and due to some agreements with the Palestinian Authority, Israel has eased the movement restrictions and reduced the number of checkpoints from over 400 to 220. The travel between Jenin and other parts of Palestine is not easy but possible. In addition we have a good network of reliable drivers who can ensure a safe and convenient travel for anyone who wishes to visit us.