interview:
Art Smith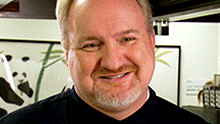 President, Board of Directors, Common Threads / United States
Art Smith is a chef, author, and television personality whose goal is to bring back meaning to the word "table" and unite families and friends through the sharing of a meal.
What is the mission statement of your organization?
The mission of Common Threads is to educate children on the importance of nutrition and physical well-being, and to foster an appreciation for cultural diversity through cooking.
When was it created, by whom, and why? How long have you been involved? Why did you get involved?
Following the tragic events of September 11, 2001, I accompanied my good friend Oprah Winfrey to New York City to cook for families who had lost loved ones in the attacks on the World Trade Center. It was during that emotion-stirring trip that I began formulating a plan for what I, as a chef and food-lover, could do to help promote tolerance and appreciation for cultural diversity and to help make certain that future generations will never have to see anything like 9/11 again. I co-founded Common Threads with my partner Jesus Salgueiro in 2003.
Why is nonprofit work important?
We need to remember that ours is one little planet, and we are all one people. We have to work together for a better world. In the case of Common Threads, we teach low-income children to cook wholesome and affordable meals because we believe that through our hands-on cooking classes we can help prevent childhood obesity and reverse the trend of generations of non-cookers, while celebrating our cultural differences and the things people all over the world have in common.
What is your operating budget? What would you do with more funds?
Our operating budget is $1,806,725. In the next four years, Common Threads will focus on sustaining the success of our Chicago program and on bringing our national programs — in Los Angeles, Miami and Washington, D.C. — to scale, adding partner sites and expanding and deepening the program content in those cities.
Outside of funding, what are some of the biggest challenges it faces? Or, specifically, what is the most frustrating part?
Outside of funding, one of our biggest challenges is getting through to people that Common Threads is not just about fancy food and celebrity chefs. Thanks to the Food Network, Bravo's Top Chef and other cooking shows, chefs are a new breed of celebrity and anything having to do with the foodie world is very sexy right now. Yes, Common Threads counts fabulous chefs among its friends, but on a day-to-day, operational basis, we teach low-income children to cook healthy and affordable meals because we believe that though our hands-on cooking classes, we can help prevent childhood obesity and reverse the trend of generations of non-cookers, while celebrating our cultural differences and the things people all over the world have in common.
What is your dream for Common Threads?
My dream for Common Threads is to expand and deepen our programming to reach even more low-income children across the country, in every city in America. Today, we serve nearly 1,000 children across 18 sites in Chicago, two in Los Angeles, two in Miami, one in Washington, D.C., and a licensed Common Threads program that will operate independently at the Oprah Winfrey Boys & Girls Club in Kosciusko, Mississippi, as well as through our summer camp program and special classes. In some sense, I dream of bringing Common Threads to my little southern hometown of Jasper, FL.
What would you consider your organization's greatest accomplishment?
In only five years Common Threads has become one of Chicago's most respected new nonprofits. Our success has been a perfect recipe comprising a visionary leadership team, support of the nation's leading philanthropists, wide-spread media coverage and a program that has taught children about the role food can play in their health and personal development, as well as in their appreciation for cultural diversity and community.
In January 2009, Common Threads piloted parent outreach meetings in Chicago. Based on the success of those meetings, we will launch a full-scale parent outreach initiative in 2010 comprising two parent meetings a year at each of our program sites; a last-day-of-class celebration to which we invite the families of our students; and the Common Threads cookbook, Eat the World: Good for your Food for Families, which we hope will become a beloved resource for children and their families to use together in the kitchen.
In January 2009, Common Threads piloted a cross-cultural exchange field trip program in Chicago. During this field trip, children from two ethnically different communities came together to learn how to prepare a simple, healthy meal, and to build tolerance and respect. Based on the success in Chicago, we will launch field trips in each of our national sites in 2010.
In September 2009, we added one new class in Miami, and we launched a brand new program site in Washington, D.C. When a woman came up to me and said, "You're the man that taught my child how to cook!" I knew I had arrived!
What are three things about Common Threads that you wish people knew?
According to a recent Program Evaluation and Needs Assessment through the Center for Urban Economic Development (CUED) at the University of Illinois Chicago:
94% of students choose healthier lunches since starting Common Threads.
88% of students ask their parents for healthier food or ingredients introduced in class.
84% of students have shared Common Threads recipes they learned in class with their families at home.
Do you think media accurately portrays the issues your organization represents?
Much of the media attention Common Threads has received focuses on its celebrity factor or the star factor of our annual fundraising event, World Festival. But the truth of the matter is, there are children and families in the United States that do not have equal access to fresh, wholesome food. These families, who live in our nation's "food deserts," turn all too often to highly processed boxed items for their daily sustenance, and for some children, a soda and a bag of chips from the vending machine might be all there is for dinner. As a result, children from these low-income areas are especially vulnerable to diabetes, heart disease and obesity. Recently, the issue has begun to reach national attention. Michelle Obama has done a lot to put the spotlight on the problem and her work involving children in the White House organic garden has been highly publicized.
How can people get involved?
People can get involved by making a cash donation through our website, www.CommonThreads.org, helping our students by donating kitchen supplies, volunteering at one of our kitchen sites or attending one of our events. On a very basic level, families can spend time cooking healthy, balanced meals in the kitchen together.
How was the grant given by explore through the Annenberg Foundation used? Do you think it had an impact? How?
The grant given by explore through the Annenberg Foundation was used to help us launch our first national program site in 2007, and it continues to help us sustain our sites in Los Angeles and Miami. This past September, we launched our newest site in Washington, D.C., with help from the Annenberg funds. Thanks to Annenberg, this fall we are serving 80 children in our national sites. Each week in our after-school cooking classes, these low-income children learn basic cooking skills and life lessons, which help them to shape their own health decisions. Trained chef instructors teach our students how to prepare well-balanced meals using fresh, wholesome ingredients and about the role those foods play in maintaining a healthy, active lifestyle.
What do you think will be our planet's biggest challenge 10 years from now? 25 years from now? 50 years from now?
Migration coupled with modern technology is, theoretically, causing the world to become a much smaller place. As the boundaries that separate our communities continue to dissolve, our differences become much more apparent. Common Threads teaches children to recognize and celebrate the similarities and differences between their own culture and those of their neighbors, helping students to develop a healthy curiosity about the world beyond their own community.
What is the key to living a happy life?
A happy life comes from being happy and that happiness rubs off on other people.