explore is a multimedia organization that documents leaders around the world who have devoted their lives to extraordinary causes. Both educational and inspirational, explore creates a portal into the soul of humanity by championing the selfless acts of others.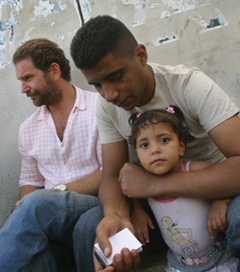 explore's growing library consists of more than 250 original films and 30,000 photographs from around the world. We showcase our work at film festivals, on over 100 public broadcast and cable channels, and on numerous online destinations including explore.org, Snag Films, Hulu and TakePart.
"At explore we are archivists," explains founder Charles Annenberg Weingarten. "We strive to create films that allow the viewer to join us on our journey as we go on location and experience what unfolds. It's like the viewers are traveling with the team."
explore features a wide range of topics—from animal rights, health and human services, and poverty to the environment, education, and spirituality. Delivered in short, digestible bites, explore films appeal to viewers of all ages, from children learning about other cultures for the first time to adults looking for a fresh perspective on the world around them.
explore films include: a woman in Mumbai who has dedicated her life to rescuing young women from prostitution, a priest in Los Angeles who helps gang members reintegrate into society, a project to protect wild mountain gorillas in Rwanda, and an environmental university in Costa Rica that focuses on sustainable development.
Individuals and organizations featured in many explore films also receive explore funding in the form of Annenberg Foundation grants. To date, over $15 million has been awarded to more than 100 non-profit organizations worldwide.
explore.org, the online portal for explore, is a community destination where people share thoughts, engage in dialogue, view and email films and photographs, and embed their favorites on blogs and social networking sites.
Never stop learning™. Come explore.
about us
follow us on social